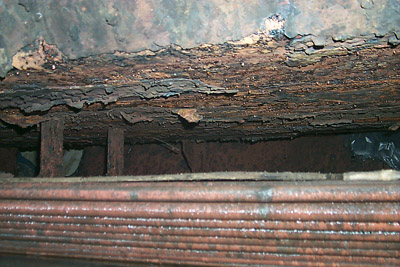 (Severely corroded absorption chiller interior.)
Imagine corrosion so intense that mechanics repeatedly removed buckets of debris from steam absorption chillers. This was commonplace in 1971 at the University of Illinois in Champaign-Urbana. The corrosion caused by the internal Lithium Bromide fluid was so aggressive that all they could do was clean up the mess left behind.

The units operated poorly, were costly to maintain, and ultimately, just dissolved away. Hoping to alleviate this condition, the Maintenance Group hired a Masters graduate from the school's renowned Chemistry Department. Thus, began the career of Richard S. Levine.
After developing rapid analytical techniques to monitor the Lithium Bromide corrosion, Mr. Levine was able to adjust the solution chemistries of the absorption chillers. His process was very successful, and the corrosion problem disappeared. The absorbers now operated properly, maintenance costs shrank, and chillers no longer corroded into junk.
Realizing that other absorbers beyond the University of Illinois had similar chemical problems, Mr. Levine established Industrial Corrosion Management in 1973. For 25 years, ICM serviced the HVAC industry providing quality, rapid analysis and interpretation of the chemical problems for all types of mechanical equipment.

In 1998, ICM was sold. Now, Mr. Levine, through LBD ASSOCIATES, continues to provide consulting on the chemical aspects of all mechanical systems.

For Mr. Levine's resume, click here.
For a partial list of Mr. Levine's clients, click here.