RICHARD LEVINE'S
LITHIUM BROMIDE PUBLICATIONS
A collection of technical publications on Lithium Bromide in absorption chillers.



Corroded absorption chiller interior with debris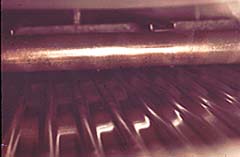 Cleaned chiller interior with properly
protected Lithium Bromide charge


Richard S. Levine
LBD ASSOCIATES, LLC
Randolph, New Jersey USA
973.895.5207
rslevine@lbdassociates.com
©2002 All rights reserved.
All text & images, are the
property of LBD ASSOCIATES, LLC.
No form of reproduction is permitted.